"Working time is lifetime. At Roll & Pastuch, we are aware of this fact and therefore pursue a clear goal: We not only want to create a working environment that promotes top performance, but also one in which each employee feels seen, is valued and can develop according to his or her personal needs. Excellent performance and fun at work are not mutually exclusive at R&P.
Of course, this can only be achieved with the right people in the team. We are not just looking for the best consultants, but for people who are more than just colleagues."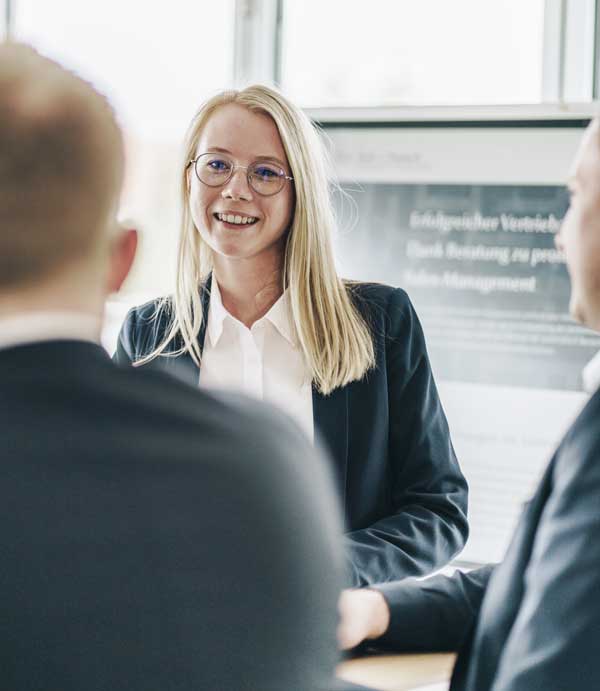 Malien, Recruiting Coordinator
---
Why Roll & Pastuch?
We are a dynamic and extremely successful company. If you are interested in building something new and being part of it from the very beginning, you have come to the right place. We regularly pitch against other top consultancies – and win. Every day we have the opportunity to create something new and define our own goals. This offers freedom that none of the larger consultancies can provide.
Above all, we work with full commitment and have fun while doing it. Consulting is hard work and can sometimes take a little longer in the evenings. However, with the right team, that's no problem. That's why we look for people who, in addition to excellent analytical skills, also have a good sense of humor. As a consultancy, we also cultivate an open and friendly approach to each other. Hierarchy-free communication, in which everyone can give their opinion, is particularly important to us. Within the team, the "you" principle applies at all levels.
Growing companies also offer great development opportunities. With us, you have the opportunity to develop in many areas. You want to build up the financial services division? You want to set up an office in Hamburg? You want to drive foreign expansion? That's great. Let's talk about what steps are necessary to realize your goals.
If you join us, it means that we see the potential in you to take on responsibility in the short to medium term and even grow into the role of partner.
Roll & Pastuch is a real alternative to large consultancies
Not only do we aspire to be the best consultants for price management and sales, but we also place a particularly high value on fair and friendly interaction, among colleagues as well as with our customers. A good work-life balance, regular team events, being on a first-name basis across all hierarchy levels, the spirit of a start-up and freedom for personal development are just a few examples that speak for us. Excellent performance and fun at work are not mutually exclusive at Roll & Pastuch.
The fact that we succeed in doing so is demonstrated not only by the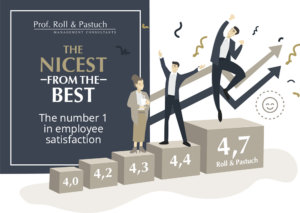 "Great Place to Work" award in consulting, in which we achieved a Trust Index of 98%, but also by our Kununu score of 4.7 out of 5.
In the "Hidden Champions of Consulting" award, management consultancies are evaluated in terms of their expertise in the areas of brand, pricing and communication strategies, as well as sales organization and management. In 2018, 2020/2021and 2022/2023, we were able to impress in all areas and beat companies such as Simon-Kucher & Partners, McKinsey and Boston Consulting Group. This made Roll & Pastuch "Hidden Champion" in the field of marketing and sales three times in a row.
---
Application process
It is important to us to make our application process transparent for applicants. Therefore, we would like to share in advance some important information and answers to questions we are often asked regarding applications and the flow of our application process:
What steps do I need to go through as an applicant at R&P?
We want to find out if you're a good fit for us and if we're a good fit for you. That's why our recruiting process consists of three successive stages after successful review and evaluation of the application documents: 1. An online logic test 2. An approx. 30-minute Skype interview 3. A day of getting to know each other at the location for which you are applying. During this day, in addition to personal interviews, you can expect a presentation, case studies and brain teasers, among other things. In addition, there will of course be ample opportunity to ask questions and get to know us.
Which documents are required?
To give us a good overview of what you've already done and whether it might fit, please feel free to send us the following documents: - Cover letter - CV - Transcripts including an overview of grades from your studies - Diploma Supplements (for completed courses of study) - High school diploma - Employer's reference If you have any further questions, please do not hesitate to contact Sebastian.
Do I fit in with R&P?
We take our claim "the nicest of the best" very seriously. Personality is especially important to us – if you like to work in a team and are communicative and creative, then you are the right person for us. On the personal side, we expect "emotional intelligence". Consulting is people business. You will be working with a lot of people in a short period of time. You will have to constantly adapt to new situations and challenges. If you enjoy working with new people again and again, this is an important prerequisite for being successful in consulting. You should have a fluent command of English and a demonstrably above-average university degree. The subject plays a rather subordinate role. Also, the university is not so important for us. We would rather have the top student from a smaller university than a below-average candidate from a renowned university. Your analytical skills should also be above average. The complex tasks of our customers require you to be able to quickly put yourself in the shoes of others, to structure them logically and to work together with the customer towards a solution. For us, finding a solution means not only consulting your gut feeling, but also using hard, quantitative analyses. You should therefore have a very good feeling for numbers and mathematics and be confident in using analysis tools such as Excel. You come from another pricing consultancy? Great. Welcome to the team.
I would like to do a doctorate. Is that possible at R&P?
For us, a doctorate is not just a title, but above all an opportunity to develop further intellectually. One of our core competencies is to always incorporate current research results into practical project work. That's why we support our employees by giving them appropriate time off to pursue this path. As a senior consultant or project manager, you have the opportunity to work on your doctorate at the same time. You will receive a 50% contract and can work on your doctorate in your free time. We offer you the chance to take big steps personally, professionally, and academically. Let's talk about whether this could be your future path!
Get in touch
Your direct contact
Malien Arndt
Recruiting Coordinator