Challenges and opportunities in digital sales
Particularly in sales, digitization opens up a wide range of opportunities for companies, but also some pitfalls. The targeted use of digital technologies can significantly improve sales success through more efficient use of resources, faster response times, improved coordination between office and field sales, and optimized information distribution. In this way, challenges such as the growing complexity of product portfolios, increased customer expectations and requirements, and increasing administrative burdens can be effectively countered.
At the same time, sales is finding it increasingly difficult to identify and target customers in the digital space. This is due not only to the wide range of digital tools available, but also to an explosion in digital touchpoints and channels – and the ability to reach customers who could not be reached using traditional models.
Successful digitization in sales
To meet the changing needs of consumers and stay ahead of the competition, companies must now transform themselves into omni-channel champions. The development of a digital sales strategy for (manufacturing) companies is a particular challenge here, as this must not damage the company's own brand and channel conflicts with stationary retail should be avoided as far as possible.
Roll & Pastuch specializes in supporting companies with their digital sales strategy and can accompany them on both a strategic and operational level. Together, the sales department is put under the microscope to find a digital answer to the following process steps:
Business development: Establishment of a systematic business development plan using digital opportunities for lead identification, lead evaluation and lead generation (bots, research, tracking, …)
Contact management: Comprehensive digitization of contact management from contact initiation to contact maintenance and contact follow-up (CRM, XING, LinkedIn, webinars, Salesviewer, Leadinspector, …)
Proposal management: End-to-end support of proposal submission, preferably without media breaks through Configure Price Quote systems (CPQ) and CRM integration; digital proposal submission & approval
After sales management: Customer support and retention through comprehensive aftersales management (online support, video tutorials, churn management, customer communities, self-service portals, …)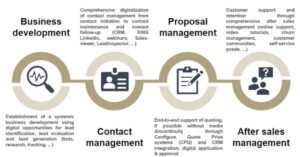 Involve all users in the process
It is advisable to select measures not only in the circle of management, but also to involve concretely affected users. For example, the requirements for a new system can be defined with the help of so-called user story workshops. In these workshops, users formulate their requirements for the system in a compact and comprehensible form so that providers can implement them in an optimally coordinated manner.
Excursus: The right CRM system
The linchpin of digitized sales is CRM. The goal is to capture customer relationships in their entirety – without further burdening sales operations. A good CRM system is characterized above all by pragmatism.
Introduction of a CRM system
The modern CRM system is cloud-based and enables sales to maintain an overview of customer relationships at all times, even with high employee turnover.
At the same time, it can be used flexibly on the road. This means that a field service employee can document the appointment directly during a customer visit and feed it into the system.
Among other things, we support you in the selection and introduction of the appropriate CRM system by making processes transparent and defining central use cases in the pre-selection of the provider. Each of the known systems has certain strengths and weaknesses in detail. Here it is important to understand the specifics of your company and to choose the appropriate system.
Particularly when it comes not only to a pure sales tool, but also marketing automation and marketing analytics play a role – which is actually almost always the case today – it is important to choose a system right from the start that will still be able to meet all needs in three years' time. Last but not least, CRM systems also serve as data hubs and enable the compilation of analysis dashboards for effective sales management. There are no limits to the variety.
Project examples
R&P has a wide range of project experience on the topic of digitization in sales. These include, among others:
---
How to: Digitization in Sales
We would be happy to support you in the digitization of your sales. Just get in touch with us!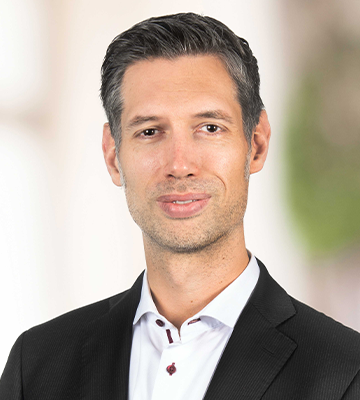 Kai Pastuch
Kai Pastuch is Managing Director of Prof. Roll & Pastuch – Management Consultants. Before joining as Managing Partner, he was Director at a leading international strategy and marketing consultancy. As a graduate in business informatics, he also manages our software company nueprice, which specializes in the pricing of spare parts with the product of the same name. Mr. Pastuch has extensive project management experience from numerous projects for large international companies and German medium-sized businesses in the areas of price management, marketing, sales and strategy. In addition to numerous publications in renowned journals and the publication of the reference books Praxishandbuch Preismanagement and Big Deal Management, he is a sought-after moderator and speaker on all aspects of sales and pricing. As a practice-oriented manager, he likes to get personally involved in our projects and contributes his broad experience in workshops and steerings.
Gregor Buchwald
Gregor Buchwald is Managing Director of Prof. Roll & Pastuch – Management Consultants. He has over 20 years' specialist industry knowledge and consulting experience. His focus is on the areas of strategy, pricing and sales. His customers include multi-national companies as well as medium-sized B2B customers. Mr Buchwald has also written numerous publications about strategy, sales and pricing and speaks at numerous events.