Implementation of the audit
The focus of the R&P Sales Audit is on identifying, prioritizing and quantifying revenue levers. The evaluation of the status quo is based on the analysis of data and documents as well as on internal expert interviews and workshops. The R&P Sales Audit also includes benchmarking regarding best practices in sales.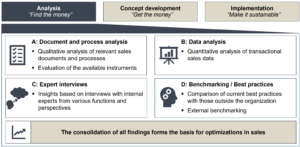 Data and document analyses
Through quantitative and qualitative analysis of data and documents, a comprehensive picture of the status quo in the company quickly emerges. We analyze transaction data, discounting, sales utilization and much more. In this way, we identify potential for improvement that has a direct and immediate impact on earnings.
With the help of state-of-the-art BI software, we can visualize the results with pinpoint accuracy and translate them into concrete recommendations for action. Our consulting is always implementation-oriented and does not stop at identifying the need for action.
Expert interviews
In our expert interviews, we talk to those who know your company best – your employees! From the most important statements of the interviews, we derive problems and recommendations for action and combine the most diverse perspectives. The interviews round off the data and document analysis and complement it. The result is a clear and structured picture of your sales department.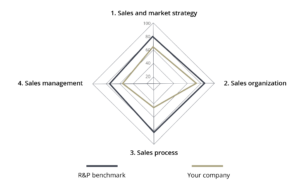 ---
Focus on results
The added value of the R&P Sales Audit can be summarized in three key points:
1. Status quo analysis and quick wins
We present a comprehensive picture of the prevailing status quo. In doing so, we focus in particular on clear implementation recommendations for prompt EBIT increases, so-called quick wins. For this, we draw on many years of project expertise.
Four central areas are considered for this and summarized in the R&P 360-degree sales approach:
Distribution Strategy
Sales Organization
Distribution Processes
Sales Control
2. Evaluation of optimization potentials and prioritization
After identifying optimization potentials, we evaluate them: How high is the effort for optimization? How high is the EBIT potential of the identified sales levers?
In addition, benchmarking against R&P best practices is performed to best assess the quality of the entire sales force and the resulting need for optimization.
3. Concrete recommendations for action
For each lever, we formulate an outline for the respective implementation concept. All levers are summarized in a roadmap and linked to an exemplary implementation plan.
360-degree sales approach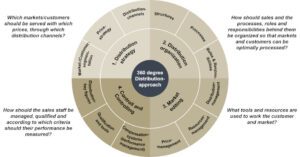 The R&P Sales Audit in practice
The experience of Prof. Roll & Pastuch – Management Consultants shows that the R&P Sales Audit specifically uncovers optimization potential in sales. We would be happy to provide you with relevant references.
Combined sales and pricing audit in the automotive industry
Sales audit with focus on Europe in the area of mechanical engineering and components
Sales audit globally with the establishment of a comprehensive BI system
Sales audit and sales strategy for a luxury goods manufacturer
Combined sales and pricing audit in the automotive industry
Learn more about your potential in sales
We will be happy to answer your questions and provide you with further information.
Gregor Buchwald
Gregor Buchwald is Managing Director of Prof. Roll & Pastuch – Management Consultants. He has over 20 years' specialist industry knowledge and consulting experience. His focus is on the areas of strategy, pricing and sales. His customers include multi-national companies as well as medium-sized B2B customers. Mr Buchwald has also written numerous publications about strategy, sales and pricing and speaks at numerous events.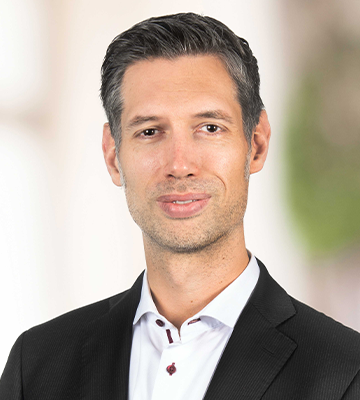 Kai Pastuch
Kai Pastuch is Managing Director of Prof. Roll & Pastuch – Management Consultants. Before joining as Managing Partner, he was Director at a leading international strategy and marketing consultancy. As a graduate in business informatics, he also manages our software company nueprice, which specializes in the pricing of spare parts with the product of the same name. Mr. Pastuch has extensive project management experience from numerous projects for large international companies and German medium-sized businesses in the areas of price management, marketing, sales and strategy. In addition to numerous publications in renowned journals and the publication of the reference books Praxishandbuch Preismanagement and Big Deal Management, he is a sought-after moderator and speaker on all aspects of sales and pricing. As a practice-oriented manager, he likes to get personally involved in our projects and contributes his broad experience in workshops and steerings.